Reconstruction of the Armenian Grocer's Guild House in Bern - 1722 (Original)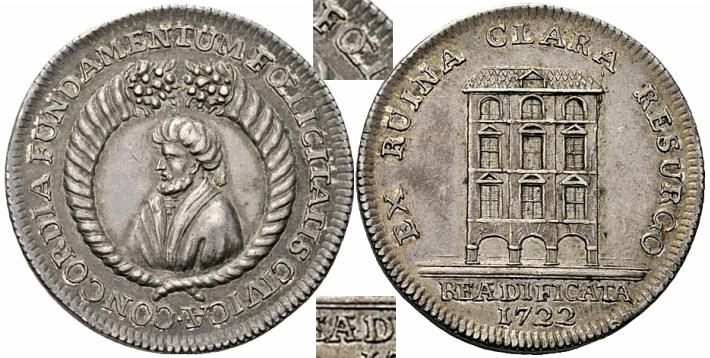 Title
Reconstruction of the Armenian Grocer's Guild House in Bern - 1722 (Original)
Event
Reconstruction of the Armenian Grocer's Guild House in Bern on Kramgasse street.
Obverse
CONCORDIA FUNDAMENTUM FŒLICITATIS CIVICÆ
Half-length portrait of an Armenian with turban to the left, surrounded by two crossed cornucopias.
Reverse
EX RUINA CLARA RESURGO / REÆDIFICATA 1722
Facade of the building on Kramgasse street.
Reference
UBS 85 lot 1867
Notes
The key distinguishing traits for the original and the restrike are shown on the enlarged image.
Collection
Social Bookmarking